Individuals interested in living in British Colombia who has suitable skills and experiences demanded in the local economy are allowed by the BC province to nominate such individuals for accelerated Canadian permanent residency under the British Columbia Provincial Nominee Program (BCPNP).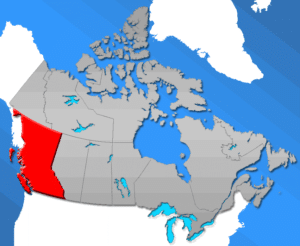 (Image Source: http://mapsof.net/british-columbia/bc-canada-province )
Which categories require invitations?
Registrants falling under the following categories are invited under the British Columbia Provincial Nominee Program:
Skills Immigration — Skilled Worker
Skills Immigration — International Graduate
Skills Immigration — Entry Level and Semi-Skilled
Express Entry BC — Skilled Worker
Express Entry BC — International Graduate
Entrepreneur Immigration
The BCPNP Invitation Process
The British Columbia Provincial Nominee Program (BCPNP) comes up with invitations to apply to immigration candidates with the highest scores under its Skills Immigration Registration System (SIRS)* during the periodic draws.
Under the Skills Immigration and Express Entry, the British Columbia Provincial Nominee Program (BCPNP) issued 397 invitations to apply for a provincial nomination to applicants in a draw that took place on September 5.
Moreover, an additional 600 points will be awarded to candidates nominated under the Express Entry BC: Skilled Worker and Express Entry BC: International Graduate categories towards their Comprehensive Ranking System (CRS) score. After getting additional points, they are placed so well in the hierarchy that they are likely to receive a federal Invitation to Apply (ITA) in a later Express Entry Draw.
Requirements to get nominated under BCPNPThe Canadian permanent residence applications of the nominated candidates under BC PNP Skills Immigration Stream will be processed by Immigration, Refugees and Citizenship Canada (IRCC) separate from the Express Entry system.

Under the BCPNP, in most of the cases, candidates applying for immigration require an indeterminate, full-time job offer from an employer in the province.
However, candidates with job offers in one of the 29 occupations under the BC PNP Tech Pilot are required to have a job offer that lasts for at least one year (365 days) among other requirements.Candidates are awarded a score based on parameters like education and work experience, once an online profile is completed through BC's SIRS.
Skills Immigration and Express Entry BC (Minimum Scores required for each category)
DateCategoryMinimum ScoreNumber of Invitations
Guaranteed Registration Score5-Sep-18SI – Skilled Worker82397135SI – International Graduate91105SI – Entry Level and Semi-Skilled6595EEBC – Skilled Worker84135EEBC – International Graduate91105Total number of invitations issued:
Vancouver is one of the best choices to immigrate
Since many applicants are interested in moving to Vancouver, the BCPNP 2018 is often referred to as the Vancouver PNP program. Hence, if you are interested in migrating to Vancouver, applying under one of the many streams of the British Columbia Immigration Nominee Program is the best choice for you.
The processing time of the program is much faster than many of the other immigration programs offered by CIC. If you are eligible under BCPNP, note that it is a quick and efficient way to get your Canadian permanent residency to live in Vancouver.
If you are interested in BC immigration through the 2018 British Columbia Provincial Nominee Program (BCPNP), contact CS Immigration– The team of skilled and experienced immigration lawyers who can make your entire application process smooth and struggle-free.
*The Skills Immigration Registration System (SIRS) is a dynamic intake management system that allows British Columbia to prioritize candidates for provincial nomination to the province.
Source Information: https://www.canadavisa.com/news/government-of-british-columbia-invites-more-skills-immigration-and-express-entry-bc-registrants.html#gs.8RK_vVo